So Wednesday was my friend M.C.'s birthday (her 24th - such a good number that I remember so well...). She's a very earth-conscious girl, so I put together a little basket of organic/non-animal testing/recyclable packaging body souffle and spray oil from
Booth's
along side a rooted cutting of my household
philodendron
that will grow in just water if she doesn't want to plant it (M.C. swears she has a black thumb).
Anyway, so for M.C.'s birthday (sadly on a Wednesday) we searched in vain for a good karaoke bar that wasn't too sketchy. We decided instead to try a hookah bar (which we found out
does
actually have karaoke, but just on Thursday nights).
Aladin Restaurant & Cafe
in Fredericksburg was actually offering 1/2 priced hookah for ladies' night - what good timing!
The food was wonderful - we got the Jasmine platter to share for our appetizer - hummus, baba ghannouge, tabouleh, and beef Shawarma (for the non-veggies in the group); I ended up getting the falafel salad as my main dish - yummy Mediterranean salad with fresh salty cubes of feta, cucumbers, greens, and walnuts topped with rounds of lightly-fried falafel patties and a tahini dressing. Yum! Everyone loved their food and the restaurant actually offers more generic (American) food for those who aren't feeling the Mediterranean vibe (or are just boring).
After blowing out the candle in her baklava, M.C. had a hard decision ahead...what flavors of hookah should she try? Only one member of our party had smoked hookah before, but others had smoked before so at least knew what to do. Hookah, we learned from our waiter Ben, is supposed to be a relaxing, prolonged experience. A good hookah enjoyed slowly actually will last an hour or more. We weren't quite sure what flavors to try, and M.C. finally picked strawberry and apple from their menu (which you can actually see on their website under the kid's menu and dessert).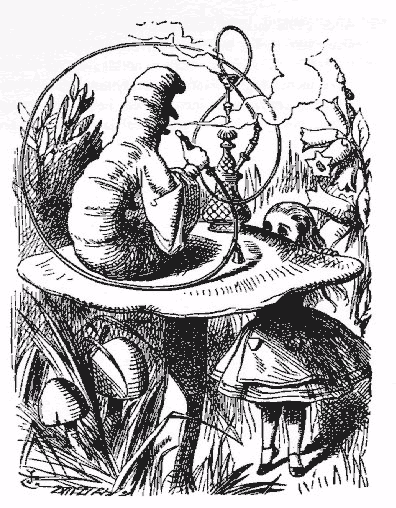 I'd have to say the experience of hookah was very neat. My only visual of hookah (now that I know what it is) is the caterpillar in Alice in Wonderland. I'm not sure I'd become a hookah smoker on a regular basis, but for this kind of evening - a leisurely dinner with friends - it was perfect. Now, no one ended up putting on the fez that was sitting temptingly on the back bar, but we had a lot of fun and I think M.C. enjoyed learning how to blow smoke rings with her apple hookah.
Image from Alice in Wonderland courtesy ibiblio.org