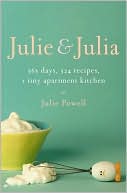 It was a great
book
. I don't know what to take away from it most, however - the thrill of a quirky project such as making all 524 recipes from Julia Child's
Mastering the Art of French Cooking
or simply following a path with passion until you find your way to the end (or a new beginning!). It was inspiring.
Well, aside from the ghastly event where the
author
and her husband leave butter at the
Julia Child exhibit
at the Smithsonian's National Museum of American History (*museum professionals gasp*).
All in all, a perfect book to finish on this eve of 2008 as we head into a new year full of possibilities...